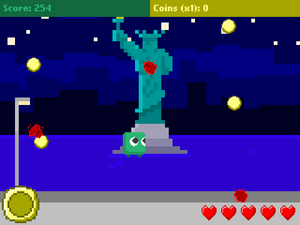 There are different elements in the game screen once you click Play.
UI Elements
Edit
The upper left text of the game screen is the score. This basically keeps track and shows you how long you've been playing the game.
The upper right text of the game screen shows the number of coins you've collected so far. The coin multiplier increases accordingly:
Coin Multiplier Table

| Score | Multiplier Amount |
| --- | --- |
| 0 | x1 |
| 500 | x2 |
| 1000 | x3 |
| 1500 | x4 |
Your skill (purchased at the upgrade screen) is displayed on the bottom right of the screen. You can also see here whether it is on cooldown or if it is available for use (Spacebar). 

On the lower right portion of the screen, you can see the amount of health you have left. Once this is all gone, you go to the Game Over Screen. 
Falling Elements
Edit
Collect coins to be able to purchase upgrades in the Upgrade Screen.

Avoid meteors or they will reduce your health. (Unless you have invinsibility or you are protected by a shield).
Invinsibility
Edit

Collect this to temporarily be invinsible.
Ad blocker interference detected!
Wikia is a free-to-use site that makes money from advertising. We have a modified experience for viewers using ad blockers

Wikia is not accessible if you've made further modifications. Remove the custom ad blocker rule(s) and the page will load as expected.